We recently helped someone with creating a progress at the top of their details page to show status and what's remaining based on a field value.
Something along these lines: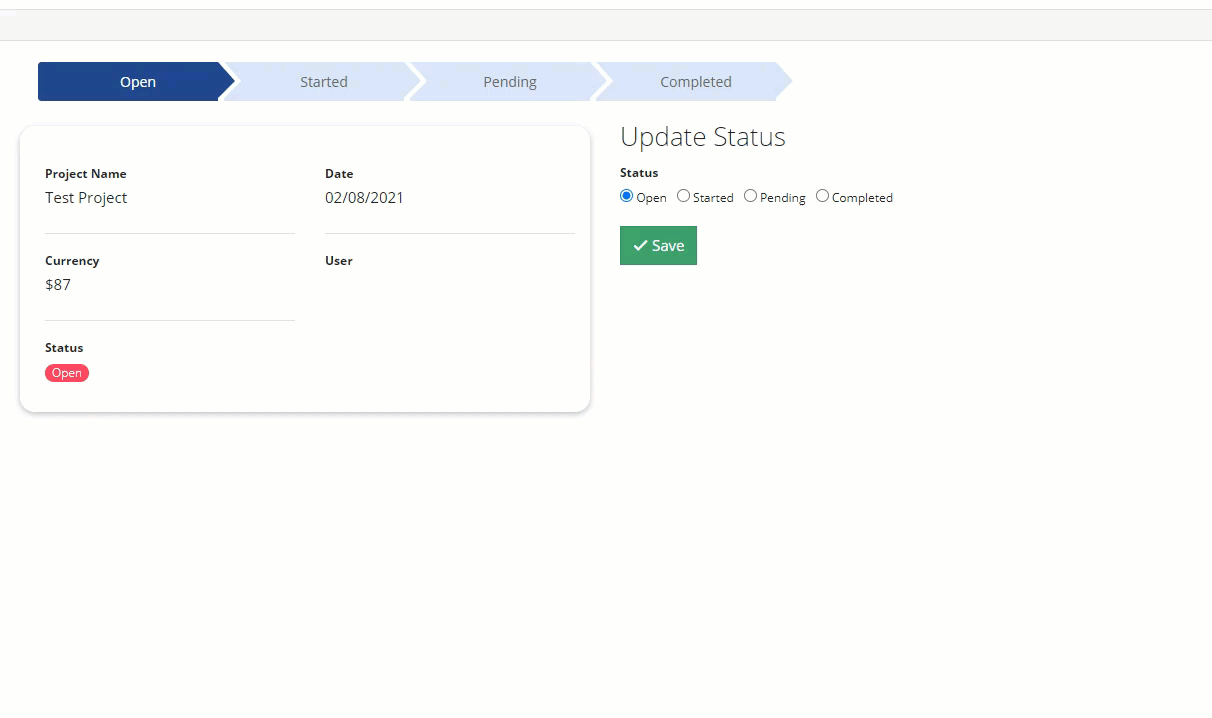 If this can be beneficial to you as well, here's the how to implement this. This requires a few steps but some copy and paste can easily get you there.
We have a radio field with 4 options. Take note of the field id (field_222 in my case):


Inside your details page add an HTML component and paste the following code into the source. Be sure to update this to match the field values you have in your app.

<div class="container">
<div class="wrapper">
<div class="arrow-steps clearfix component-3-progressbar">
<div class="step" data-id="Open">Open</div>
<div class="step" data-id="Started">Started</div>
<div class="step" data-id="Pending">Pending</div>
<div class="step" data-id="Completed">Completed</div>
</div>
</div>
</div>


Add this to the Javascript of your page:

TB.render('component_3', function (data) {
 jQuery('.component-3-progressbar > div').removeClass('current');
 jQuery('.component-3-progressbar > [data-id="'+data.record.field_222+'"]').addClass('current').prevAll().addClass('current');
});

Change field_222 and TB.render('component_3, to the component id of your details component. The details component must contain the radio field.
Finally add this CSS to your page:
.arrow-steps .step {
	font-size: 14px;
	text-align: center;
	color: #666;
	cursor: default;
	margin: 0 3px;
	padding: 10px 10px 10px 30px;
	min-width: 180px;
	float: left;
	position: relative;
	background-color: #d9e3f7;
	-webkit-user-select: none;
	-moz-user-select: none;
	-ms-user-select: none;
	user-select: none; 
  transition: background-color 0.2s ease;
}

.arrow-steps .step:after,
.arrow-steps .step:before {
	content: " ";
	position: absolute;
	top: 0;
	right: -17px;
	width: 0;
	height: 0;
	border-top: 19px solid transparent;
	border-bottom: 17px solid transparent;
	border-left: 17px solid #d9e3f7;	
	z-index: 2;
  transition: border-color 0.2s ease;
}

.arrow-steps .step:before {
	right: auto;
	left: 0;
	border-left: 17px solid #fff;	
	z-index: 0;
}

.arrow-steps .step:first-child:before {
	border: none;
}

.arrow-steps .step:first-child {
	border-top-left-radius: 4px;
	border-bottom-left-radius: 4px;
}

.arrow-steps .step span {
	position: relative;
}

.arrow-steps .step span:before {
	opacity: 0;
	content: "✔";
	position: absolute;
	top: -2px;
	left: -20px;
}

.arrow-steps .step.done span:before {
	opacity: 1;
	-webkit-transition: opacity 0.3s ease 0.5s;
	-moz-transition: opacity 0.3s ease 0.5s;
	-ms-transition: opacity 0.3s ease 0.5s;
	transition: opacity 0.3s ease 0.5s;
}

.arrow-steps .step.current {
	color: #fff;
	background-color: #23468c;
}

.arrow-steps .step.current:after {
	border-left: 17px solid #23468c;	
}