Hello Tadabase Community!
SPECIFYING THE SITUATION
I have a process here that we generate production orders for third parties, where each order is one record.
When it comes the payment date for a specific service provider, I go to his table view and select all the records (please take a look at image attached, number 1 in red) that will be paid and update their fields "manually", which I marked in blue (#2). For this action, I'm using the Update Button enabled in the Table Component.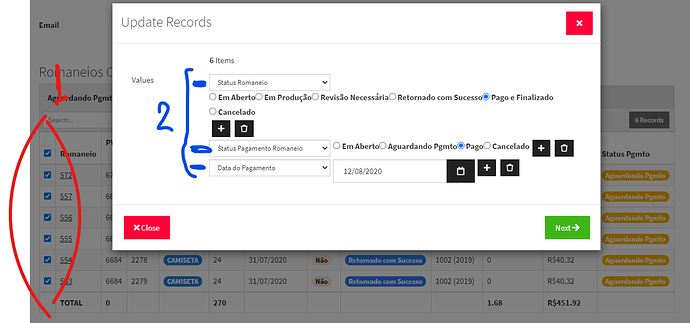 MY SUGGESTION(S)
Create an Action Button that will apply all specific updates for the selected multiple records.

Or another great option would be to make these selected records to create a closing invoice (connecting to another table). So we would have a better payment closure control for our services providers.
I hope that my suggestion would be helpful for more users here. Or, if someone has a way to get around this solution, would be very welcome!
All the best,
André