I have watched the YouTube video on dependent dropdowns repeatedly. It's clear and I believe I understand it completely. I was able to get the technique to work just one time, but now I can't get it to work anywhere. I've rebuilt a new app from scratch three times and I'm still unable to make it work.
The essence of the problem is that I do not see the "Show" option for the field whose selection list I want to be dependent upon another connected value. Here's a screenshot of the option I need, made from the YouTube video (here, at 1:20):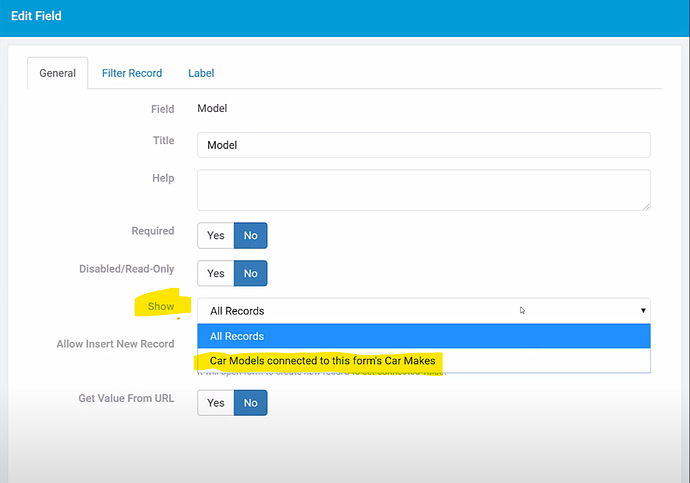 As I said, I have seen this option once before, so I know what I'm looking for; and of course it's there in the YouTube video, as I just showed. But now no matter what I try, I can't get it to appear.
Has this feature broken?
Click disclosure triangle for more info about what I've done....

My app has three tables that are pertinent here:

Clients
Projects
Activity

The relationships are (I trust) fairly obvious but to be clear and explicit: I've connected Projects to Clients; and I've connected Activity both to Clients directly and to Projects (per the instructions in the video). When I edit the ConnectedProject on the New Activity Record form, I expect to see the Show option that will allow me to select "Projects connected to this form's Clients". But I don't.

I even tried redoing the connections so that instead of Projects being connected to Clients, Clients are connected to Projects. But that doesn't work either.
This is decisively important to me – and the YouTube video shows that this at least used to be possible. I'm desperate for somebody to throw me a clue here!
William