I am wondering if there is any way to show the progress specific to an action link that is run? This would be on the app side, not builder. Currently, it appears there is no way to view the progress of an action link and this is a problem as it prevents you from having any insight into how much time an action has remaining before completion.
If this is truly not currently available, I would like to request this feature or perhaps a way to implement this as my customers need to know the status of action links they run.
For example, when running an action link, it might display a processing indicator like the following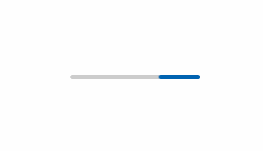 Ideally, it would display a progress indicator so you could see far along the action link has progressed through all the rules. See below.