Brand Global has developed a fully functional secure messaging system. This solution is designed to work within your Tadabase instance and can be fully customized to match your applications branding and colors. We have even included javascript connectors that would allow you to pass specific application data to the i360chat System. This includes logged in user information, such as Display Name, Email, and Role.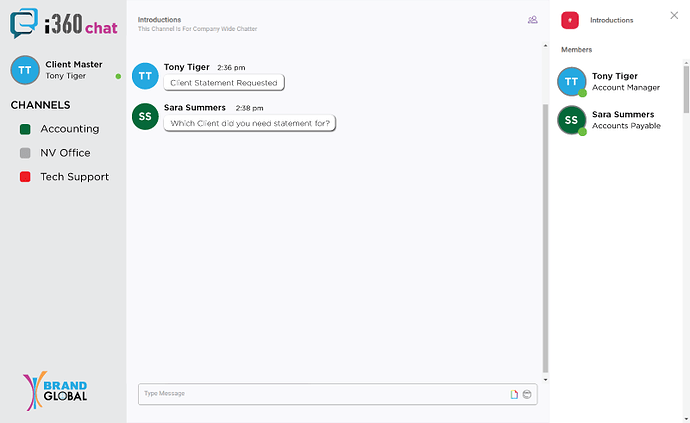 This chat system comes enabled with up to 5 channels which can be used as departments for your chat system. This system is designed to offer a fully operational user experience. Version 1 features include updated emoji icons, file transfers, images, hyperlinks.
We are also in final development of a full stand alone system that could be accessed via the web. Mobile versions of i360Chat will be released to app stores by May 2021. The stand alone system would allow you to embed a widget on your company's public website or create a client only communication channel without having to grant access to the application.
Code along with UI/UX templates can be purchased from Brand Global. Tadabase community members would receive code and deployment instructions at a discounted rate. Currently the complete code kit is available for $1,900 (USD) to community. Retail is $2,800 (USD).
Support and Implementation services available at additional cost.
This Solution will require some third party subscriptions:
PubNub
Amazon S3 Bucket
For additional information or to schedule a front-end demonstration feel free to contact us at connect@brandglobal.us