Hey guys,
I'm trying to connect Tadabase with Power BI, but I can't get more than 1000 rows uploaded to my query.
I followed this link and was able to retrieve the table data from my app, but its limited to 1000 records only.
Maybe its something to adjust in the code, so it can loop the pages and keep retrieving more data, because it seems that the imported JSON is returning a limit of 1000 (even though I adjusted the URL to a /records?limit=20000)

As it shows by the image below, my table has 3 pages and a total of 2146 records. But the limit is 1000.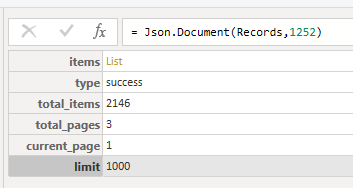 Please, how can I solve this?
Tks in advance!
Best regards,
André