I kindly request your help, as I'm not being able to make it work with JS.
Basically I want to hide some fields on a search component given the content on a profile field.
Logic is clear, but what I can't get is the "simple" task of hidding the field, not the conditional logic.
e.g. I have a search component to select profiles that match some conditions.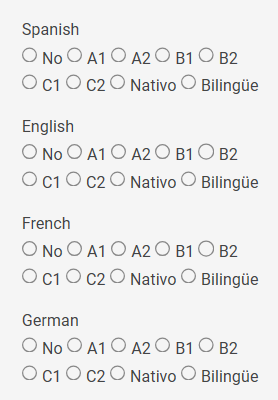 Considering user preselection, he just want to see the option English & French, so we have to hide Spanish & German.
If I set CSS class on each one "lang-sp", "lang-en", "lang-fr" and "lang-de" then hidding the class, I think it should work
$('. lang-sp').hide(); // to hide spanish field, But it doesn't work,
Added search component class:
$('.logistics .lang-sp').hide(); // with same negative result
Also tried using element:
document.getElementById("field_222").hide() // with negative result.
For sure I'm using wrong approach, and also I' doing my best to learn JS.
Your help is pretty much appreciated
I see "no code" is becoming "low code", and I'm getting used to it while learning new abilities.