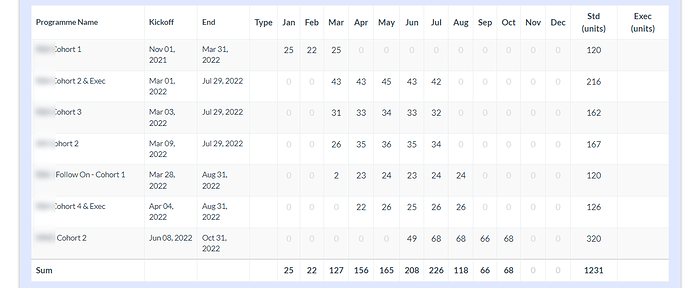 In my existing App I have created a monthly workload calculator that creates an annual planner showing workload in each month per project. Each of our projects are 4-6 months in duration.
We take the expected workload(hours) within each project we are working on (and have coming up) and use the start and end dates to calculate the workload per project / per month.
From this I have created a year planner showing all the projects and all the workload and totals per month. This is a simple table view shown above. But, simple as this view is, its become an important tool for us to plan our capacity and workforce. And, as we allocate work to staff, can see the same monthly breakdown per person across a year planner.
It works great BUT…
To create this view, I have had to create extra fields in the projects table for each month in the year, and a complex calculation for each field to work out the value for that month. And as we move forward into future years I will have to create more and more fields with complex calculations in each. And … As a project only runs for a few months in a lengthening time period, most of these fields will be zero. It's clear that what we have is not a long term solution. For I cannot have unlimited fields in a table and even if I could it would be grossly inefficient.
So it occured to me that what I want to create is a limited set of fields that carry some 'two dimensional data'.
For example:
If we said that no project will last more than 6 months, then I should only have a maximum of 6 fields to hold the 6 workload/month values. And each of those fields should hold two pieces of data … The year/month that they apply to (which will be between the project start and dates) and the calculated workload value for that month - based on working days in that month. I imagine this is 2 dimensional data is almost like coordinates.
I can conceive this, but I can't see how I could easily store two values in one field, in just six fields, in such a way that I can readily recreate a Table view like the one above that will show the 12 months workload planner - where the six fields of data for any specific project will be shown in their correct months .
I'm hoping someone has a idea to help.