Hi coleagues. Im trying to figure out how to change size of an image when showing it on a detail page. I see that size is different when using single file field type "File" or using multimple file one, "Fields". I also would like to center the image within column.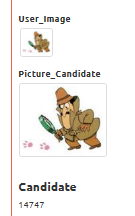 May be it can be changed with CSS, though it would be nice to have it on format tab options: size, background, border, alignment, for the ones like me that do not manage CSS well enough.
I see how to change title size or even hide it. But how to change field text size and color?
I'd appreciate some help on both topics