I have a pipe that works fine when I test it.
But when I set up up in a table action link, I configure it along with a notification email and success message - the email arrives and I see the success message, but the endpoint is not hit.
The endpoint is a Integromat webhook and it is very simple to see if it is hit or not (any errors aside).
The only difference between the test is me setting the single parameter manually vs passing it dynamically in the action link. (I have tried setting the parameter as local or global, but that make no different.
The pipe is this one (with a successful test)…

The action link is in a table like this…

Here is the action link…

Here is the notification email…

Here is the success message…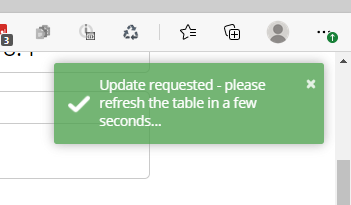 What could I be missing?