Hi Tadabase team,
For a few weeks now, the South African Rand symbol ('R') has gone on holiday and has been replaced by the Turkish Lira symbol.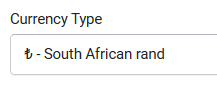 We've opened multiple support tickets but they seem to get no further than on the team checking the problem.
Can we have this fixed ASAP please?