March is here and our team is marching ahead with some huge announcements this week!


We're ecstatic to share that we have officially rolled out PDF pages 2.0!! We know our community members have been waiting for this update and we can't wait for you all to see!


The main change we made for PDF Pages 2.0 is that we have now moved PDF pages under the automation tab instead of being tied to a specific page in the Page Builder (PDF alpha). By compartmentalizing this feature, users can now access a single PDF Page from multiple App Pages within their app, streamlining processes significantly.
You can now download/email/save PDF pages on demand or on schedule from anywhere in your app via the: PDF Print Component, Table and List Component Links, Scheduled Tasks, and/or Form Email Notifications.
Check out the feature spotlight video below to see this in action and learn more about PDF pages 2.0 HERE.

Our engineers have introduced 3 new templates this week for the HR industry!
Employee Directory - Easy-to-use employee directory with a fast employee search and rich employee profiles. Yay!
Goal Tracker - List your goals, track your progress, and automate your team's path to your success.
Contact Directory- Automate your contact directory and streamline contact, client, and company information on one secure, centralized database.

We also have a new Build it with Tim episode! This week, we'll learn how to build a system for allowing the User to dynamically select which fields in a component they want to hide or show using JavaScript and the Profile Component. Check it out!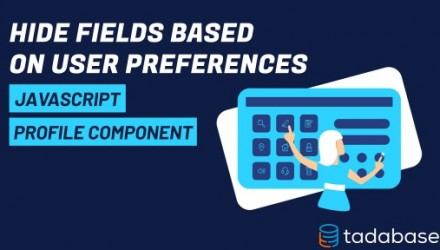 Snippet of the week:
Want to use your own custom icons on a few cards? This is the snippet for you - just follow the steps!
That's everything for this week, folks. Happy building and see you on Tuesday!