Another week, another update brought to you by our team.
Not to sound like a broken record, but this week is a big one!
Our powerhouse trio "plumbers" (read: Sara, Shira and Esther) have been revamping, adding and improving our pipes for months. We're ecstatic to announce that these updates have begun rolling out and are ready to bring new life to your database. Read more about this here and be on the lookout for more updates in the weeks to come.
The much awaited drum roll please development environments are now in their development phase! These features allow you to see how adjustments to your app would look, without needing to commit these changes and go live. This gives you the added edge to play around with different options, without needing to actually change your app (especially if it is being used at the same time). Keep an eye out for a beta available in the coming weeks!
Some examples of current features include:
Three unique environments (Production, Staging, and Development)
Define which of your users can access each environment
Assign a unique domain to each environment
Restore a backup to a separate environment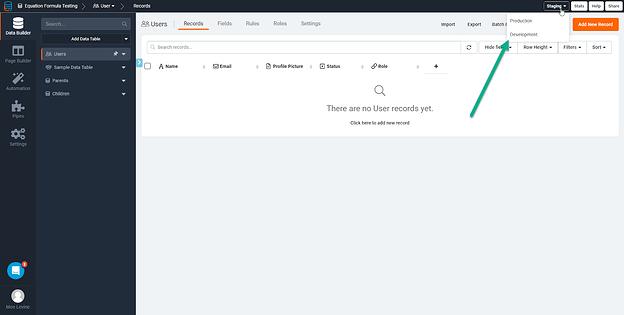 Keep an eye on our updates as we keep adding and improving these features.
Our team has also pulled out the toolbox for improving our imports and exports.
We've added a case sensitive option for import matching. Woohoo!
For exports, we've fixed:

Commas in field values cause exports to map columns incorrectly.
Address/radio/select/multi-select
This week on Build it with Tim, Tim delves into the depths of Building a Pricing Calculator from imported data. While this video is (of course) helpful for building a pricing calculator, Tim points out that his intention with this video is discussing equations, complex formulas and import templates across the board, so be sure to check it out. You may also notice the new snazzy graphics and intro, lookin' fresh!
That's all for this week, Tadabasers. Happy building and see you next time!
-The Tadabase Team