Another week, (you guessed it) another update from the team.
We're thrilled to announce that our newly coined Goalmap is now live

. Tim wrote a fantastic post all about why we chose this new method to display and interact with our users on our goals (hint: it includes our favorite word- Automation

). Read all about it here.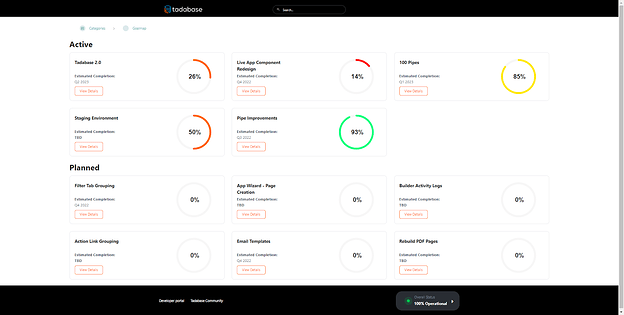 This week on Build it with Tim, Tim teaches how to send email notifications from your Tadabase application. This nifty feature can be integrated in a multitude of ways. In this episode, Tim demonstrates a few of these ways so you can choose the right one for your app. Take a look!

Our "plumber" (Shira) has added step-by-step instructions on the different methods by which users can add their own pipes. Check it out here. Yay!

We've mentioned in previous posts that our team is compiling snippets of code from our community for all our users' convenience. To highlight this further, we'll be including a snippet of the week in this update moving forward. So, without further ado–
Snippet of the week: How to Hide Component Based on "No Records" in Table. Snip Snip, Hooray!

Coming Soon:
Easier domain management with built in SSL and CNAME verification.
Ability to group filter tabs into a dropdown for a cleaner, more uniform look.


We're excited to share that we've begun working on a Chrome extension for complex pipes- pipes with complex configurations. This Chrome extension will replace having to write code for advanced pipes and instead turns it into a no-code interface (GUI). This will hopefully save our users lots of time and headache involved with writing code. #IYKYK

Later, Tadabasers. See you next week!